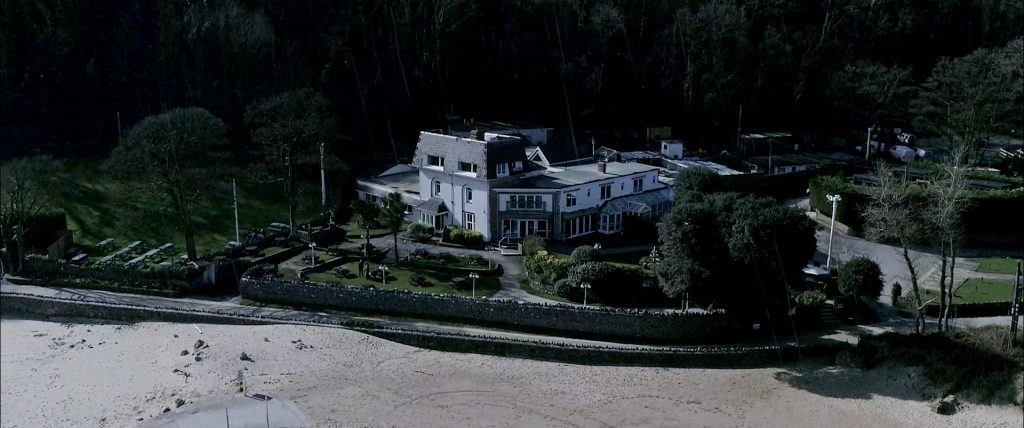 Oxwich Bay hotel is one of the nicest venues in South Wales to have a wedding.
They're a hotel right on the sea and they also host weddings and have a dedicated marquee a short walk from the hotel.
This time last year I was lucky enough to film a wedding there. It was my first one at this lovely venue. Having my wedding videographer South Wales services, I've always wanted to film there. 2020 was going to be my busiest year yet, but as we all know Covid has played a massive part in this and that's why it WAS going to be my busiest year in filming weddings, turned out to be my worst. Right that's the only time I'm going to mention this is my blog post, I promise.
Anthony and Gemma booked my Platinum package and I had worked with the photographer Kevin before so I was really looking forward to it. Unfortunately that day, Storm Dennis arrived. Whilst I was there my wife text to say Dennis had wiped out three garden fence panels. Great, thanks Dennis.
Dennis didn't stop their magical day. In fact, just the opposite. Gemma's grandpa Dennis had passed away, so the Storm Dennis was Gemma's Grandpa Dennis just saying hello and watching his granddaughters special day. I've literally just shed a tear writing that bit. After the ceremony it did brighten up slightly which gave us a chance to get some couple photoshoot on the beach.
Oxwich Bay Hotel works well for weddings, Gemma had a room allocated for bride preparations in the main hotel. The room was a lovely size, had a great place to hang the dress.
This helps. I've always said that if I was ever going to have a wedding venue and a room for bridal preparations that I would have an allotted space for the dress to hang, so that photos and video can be taken. We recorded Gemma reading a lovely letter that Anthony had written. Also the room was a nice size for Gemma's dad to see her and do a dress reveal. Oh I do love a dress reveal for the father of the bride.
This lead nicely onto the ceremony. The ceremony room is a generous size, again this is downstairs in the main hotel. So the bride doesn't have to travel far. I can't remember the exact numbers but they had a lot in the room. Usually there would be plenty of room at the front for the videographer and photographer. Gemma had her brass band setup so they took up a lot of the room. So me and the photographer Kevin had to squeeze under the arch at the front. Luckily they had our platinum package so my second shooter had plenty of room and could film the grooms side perfectly.
After the ceremony all the guests made their way up to the marquee, which is literally a minutes walk, not far at all. Well, storm Dennis was still lurking so some guests hair did get blown about a bit, lol. We held on slightly to get a shot with the couple and the brass band. By the time we made our way up the storm wasn't that bad.
The marquee is a lovely size, and split into two. One side had a curtain closed and that's where all the seating is for the wedding breakfast. The other half had the bar and some lovely seating. The entrance was also big enough to throw the confetti.
I can't wait to film some wedding there in the summer. We did go down onto the beach, part of it was flooded, but we managed to get some lovely shots.
The room for the wedding breakfast was a lovely size. You'll have to ask the hotel for the exact maximum number of guests allowed but there were definitely at least 8 tables of 10. It's perfect for speeches, a dream for videographers as this venue has a great sound system and I was able to plug one of my audio devices straight into the soundboard and get a direct feed. But as usual I still had a hidden microphone on all the speakers. In this case we had the two dads speak, two best men and the groom, so 5 in total. But even with all 5 speaking the speeches didn't actually take that long. They also had the speeches before food, which is my favourite way of doing it.
The food was really nice as well. I do like a venue that provides food for its suppliers and that tastes so good. As I would have been a bride prep early and not have eaten until the wedding breakfast, which could be about 5pm. And I like my food.
After food, all guests return to the other half of the marquee whilst the venue gets turned around all ready for the reception and evening guests.
The bride and groom had a dance floor out down, which I'm not sure if the venue provides, or they paid for a separate company to do. But the floor was a lovely size plenty of room for the first dance and guests to have a good dance.
If the Oxwich Bay Hotel is one of the venues you're considering for your wedding venue, then you won't be disappointed.
If you would like to have your special day filmed then please get in touch with us today. Weddings in 2022 are filling up and even 2023. But of course I still have a few space variable for this year and the next so just let me know your date and I can check my availability. With all my other services I only film 15-20 weddings a year as I like to put my time and effort into creating you the best wedding film.
I have three wedding film packages in total. Silver , Gold and Platinum. They all have myself filming the whole day. Platinum also has a second shooter. Full details of all wedding film packages can be found here. Please have a look and if you have any questions just fill out the contact form at the bottom of the wedding films section of the website.
Thanks for reading.
Nick.